I can say for sure that I have.
My daughter, Linden,
is
a living, breathing, smiling miracle. Two months ago, her cardiologist sat me down in a room and told me that Linden's had a lot of mitral valve regurgitation (leakage) and that she would need another surgery, soon. He told me that in 6-9 months her heart just wouldn't be good anymore. He had two patients (Linden included) whose heart anatomy was as complicated as Linden's and the other patient didn't make it. I left that appointment feeling so low. She had her first open heart surgery last November, in Boston, at 11 weeks old, but she's just been so healthy that it seemed like she was fine. Her heart told otherwise. A copy of the images from her echocardiogram was sent to her cardiologist in Boston and after reviewing them, he agreed with her cardiologist here that scheduling surgery was the next step.
A few days later I was on the phone with a Sherry from Dr. Breitbart's office in Boston scheduling everything that we would be doing while there. Linden would be having pre-op bloodwork, an EKG, an Echo, and a chest x-ray on Thursday, July 16, and a heart catheterization procedure the following day. Her mitral valve repair was scheduled for Monday, July 20. Sherry told me what to do and what not to do before procedures like not eating 4 hours before the Echo because she would be sedated and 4 hours before her heart cath.
We got to Boston on Wednesday, July 15. My friend, Kelly, picked us up at the airport and brought us to our home for the next couple of weeks, The Devin Nicole House. It's a nice place to stay that the hospital offers to families of cardiac patients. After getting settled in, we took a walk around Boston. We passed in front of Harvard Medical School and it became real to me where we were. I had spent the last few weeks crying and praying that God would heal Linden's heart through the hands of her surgeon and yet here we were, in Boston, at one of the top children's hospitals in the nation. I needed to have faith in our situation, in the doctors and surgeon in charge of her care, and most importantly, in God as He had the last word.
Linden did NOT sleep well at all that first night. For some reason, the dark, quiet room made her very hyper! She was up from 11pm-4:30am yelling, talking to herself, flipping over and scratching the sides of her pack'n'play. It was mighty crazy. Haha. I kept hoping that eventually she would fall asleep as I was nursing her, but no, it did not work. Needless to say, Joe and I were exhausted the next day for her pre-operative testing at 7am. Joe and I were like zombies. Linden had bloodwork, an EKG, a chest x-ray and while we were trying to keep her awake for her sedated echo, she fell asleep. Perfect timing, kiddo. She had to be woken up to get chloral hydrate (meds that made her just sleepy enough to lie still) before her echo. She took it and fell back asleep. Her nurse encouraged Joe and I to go get some lunch while she had her echo done because it would take over an hour and we hadn't eaten breakfast yet. While we ate lunch in the cafeteria, neither of us could stop thinking about Linden. We were hoping that they wouldn't find anything else that was wrong and that things would at least have stayed the same and not gotten worse since her last echo 6 weeks before.
Thinking back now, those last couple of weeks before we went to Boston were so hard on me. I was torn between God's will and my own. What if His will was different than what I wanted? Handing over my fears and my Linden was what I needed to do, but was it ever hard to do. I wasn't sleeping well. I wasn't eating well. I lost some weight. I was cranky all the time. Anything and everything made me burst into tears. One day, my sister-in-law came over with a card from a priest friend of a friend and as I opened it up and read the words "Praying for your strength to accept God's will," I turned into a sobbing mess. I couldn't lose my baby. I just couldn't.
Joe and I held hands and walked back up to the Echo room and as we sat down, I saw three people looking at two images on the screen. I could hear some murmuring and 'mmmhmm's', 'hmmmmm's' but I couldn't really make out what they were saying. They were done, though. Linden had slept the whole time so they were able to get some really good images, they told us. Dr. Breitbart asked Joe if he had a record of Linden's weight gain and I got worried when I heard that. I started thinking that it must have been worse than it was before otherwise why would he be asking that question. We were moved into another room, where Dr. Breitbart and his partner Dr. Caine came in to speak to us about their findings.
"I have somewhat good news," he said, "it seems that Linden's echo today revealed that her leaking valves have slowed down quite a bit since 6 weeks ago."
Joe and I were very confused and asked what that meant.
"We compared her images from today to her images from post-op last November and from the end of May and her image from today is almost identical from November's. From what I see today, it seems like she's gone from a small chance that she
won't
have surgery to a small chance that she
will
need surgery. Dr Caine and I are very, very puzzled, though, and we need to go over the images again so we'll have to meet up later and discuss this again. Can you meet me in my office around 4:00? Let's try not to get our hopes up because we do want to do what's best for Linden."
I had a HUGE grin on my face. So did Joe! Linden soon woke up and nursed and then we walked around the hospital for a while trying to waste some time. We had two hours until we were to meet with him again.
Dr. Breitbart walked in with somewhat of a grin on his face. He said that he had gone over all of Linden's images with the Chief of Radiology and Linden's surgeon, Dr. John Mayer, and they all came up with the same conclusion. Linden's heart was BETTER than 6 weeks previous. He said that her condition doesn't get better without surgical intervention, but somehow, some way, Linden's had. Her heart had corrected itself. He did want to go on with doing the heart catheterization procedure the following day to be sure, but just by the look on his face we could tell that he was feeling pretty sure about what he was saying about her possibly not needing surgery.
Joe and I went back to our room at the Devin Nicole House and talked. I just had this overwhelming feeling of peace no matter what was going to happen. We had gone there expecting surgery, so we couldn't necessarily be disappointed if she did end up needing it, but to go home without surgery would be absolutely amazing. I just kept saying, "Whatever happens, we'll be fine. Whatever Linden needs is what she'll get." It didn't hurt either that the news came on the 9 year anniversary of the death of Joe's mom, Carol, who Linden CAROLine is named after. She was definitely watching over Linden and whispering into Jesus' ear that day!
I called my mom and told her what happened that day. She and my dad were driving from Louisiana to Boston and were in Alabama when I talked to her. I told her not to freak out, (she does that from time to time.....haha) but I had some news that I was bursting to just tell someone. When I told her that it was a possiblilty, that Linden wouldn't even need surgery, she burst into tears and said "I changed my prayer today! I have been praying that she would be fine during and after surgery, but then I said 'No, my God is bigger than this, I want a miracle. I pray that she doesn't even have to have surgery." I told her to keep it a secret until we knew for sure. We would know by noon the next day.
Friday morning we woke up around 5:30 and were at the hospital by 7:30 am for Linden to be admitted for her catheterization. She went in around 8:30 and at 10:00am we got a report from her nurse, that she was doing great and they were measuring the pressures in her heart and that they would call us in another hour. I was so exhausted that I rested my head on Joe's shoulder and I guess I feel asleep because the next thing I noticed was Joe nudging me saying "Wake up" and I woke up to Dr Breitbart smiling at us.
He said
"It's good news. Linden did great. Everything went fine and I'm very pleased with the measurements. She's fine. We don't need to do surgery at this time! Let her wake up, then she can nurse and then she'll be discharged."
I cannot explain to you the weight that was lifted off of my heart at that moment. Not only did my Jesus come through, he exceeded what was asked of him. All along, I had been praying these words, "Please God, heal Linden's heart through the hands of her surgeon." It NEVER had occured to me to pray for a miracle, for her not to even need surgery. What I heard from her cardiologist in La was so doom and gloom that was asking for what I thought was the bare minimum, just for her to be OK after surgery. I prayed that it would be her last surgery. I am still [almost 2 weeks later] in awe about this.
At 2:00 PM, on Friday, July 17, exactly 8 months since her first open heart surgery, Linden was DISCHARGED from Children's Hospital without needing surgery!!!!!!!!
We called all our friends and family and told them the good news, about our MIRACLE baby. Everyone was in complete awe! Our prayers had been answered and then some! Joe's sisters and brother were flying in on the Sunday-Tuesday for her surgery and didn't want to lose money on the tickets, so they came anyway and we did a bit of celebrating! Instead of being cooped up inside a hospital worried sick about Linden, we were able to enjoy her and enjoy each other for a couple days. How can people still question whether or not there is a God in a situation where something just CANNOT be explained other than it being all about HIM?!
*I'm sorry that it took me SO long to get this posted. EEK. I had alot to say!*
Now, for the pictures.
Sitting in a coffee shop the day before her cath.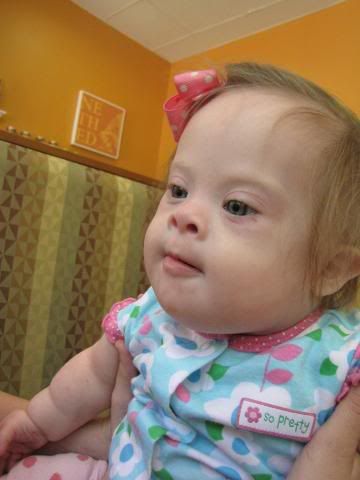 Got lashes?!!?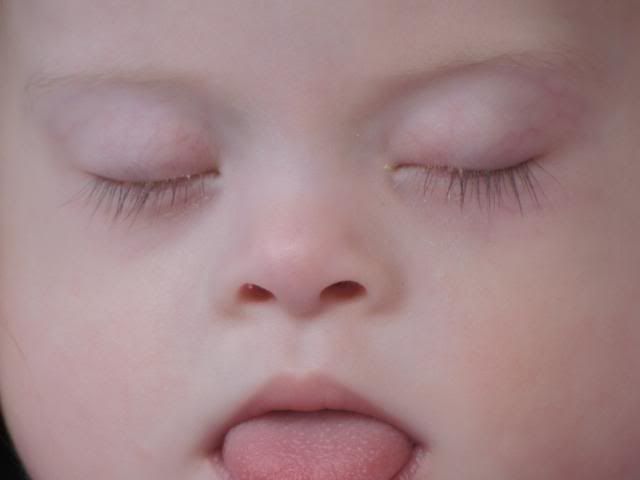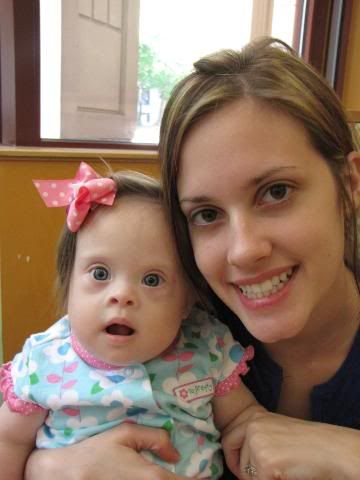 Falling asleep before her ECHO. We tried hard to keep her awake.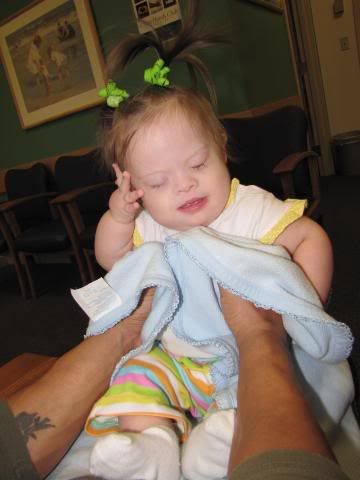 Smiles for Daddy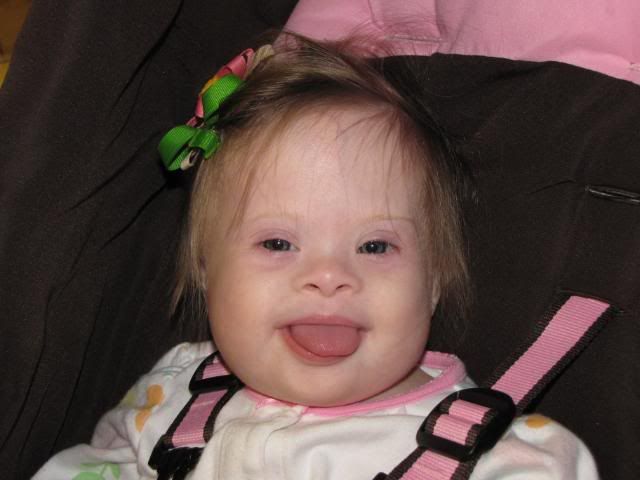 In front of Harvard Medical School